Greetings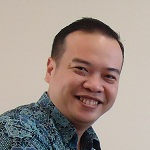 Welcome to BINUS Institutional Development Center (BIDC) !
BIDC is a unit in BINUS University to manage study program development, and the institutional grant project management (Project Management Office). In 2016-2018, BINUS is chosen by US Embassy (RELO – Regional English Language Office) to running Fellow Program (Asean Fellow in 2016-2017 and Fellow 2017-2018). We also manage international grant for BINUS Entrepreneurship Center to enhance the incubator for business start-up, and the grant from Taiwan (Ministry of Education) to enhance our potential lecturer in International Relationship, Business Law and Chinese Literature.
In 2018, BINUS have 2 Doctor Programs (in Management and Computer Science), 6 Master Degree Programs (Management, Information System, Computer Science, Industrial Engineering, Accounting and Communication), and 27 Undergraduate Programs. BINUS also running 5 programs under BINUS Online Learning (Management, Information System, Accounting, Computer Science and Industrial Engineering).
Please contact us for more details and collaboration opportunity. Thankyou.
Best Regards,
Stephen Kurnia
skurnia@binus.edu