Workshop For Lecturer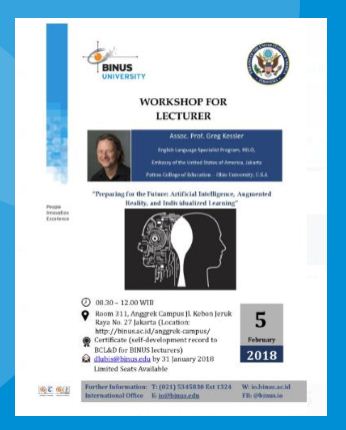 BINUS, pada tanggal 5 Februari 2018, Embassy of the United States of America, Jakarta bekerjasama dengan Binus University melalui English Language Specialist Program, RELO untuk menyelenggarakan Workshop For Lecturer dengan tema " Preparing for the Future: Artificial Intelligence, Augmented Reality, and Individualized Learning".
Pembicara Workshop dari Patton College of Education – Ohio University, U.S.A . Assc.Prof.Greg Kessler. Diselenggarakan di Ruang 311, Anggrek Campus Jl. Kebon Jeruk Raya No. 27 Jakarta. Peserta yang mendaftar selain dari dosen Binus University juga dari dosen beberapa Perguruan Tinggi di Jakarta.