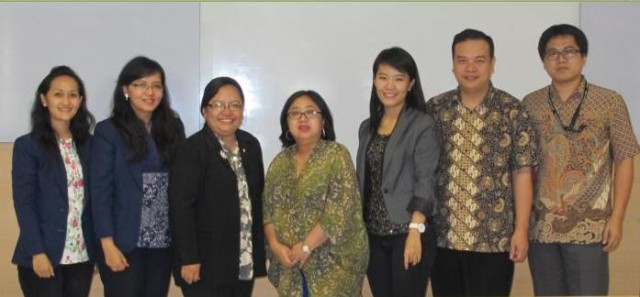 BINUS – Kamis, 10 Juli 2014 Ma Chung Universty Malang berkunjung ke Binus untuk menginisiasi kerjasama dengan School of Business Management Binus. Dimana salah satu bentuk rencana kerjasamanya dalam bidang pertukaran pelajar antara Jurusan Manajemen dan Akuntansi atau Mahasiswa dari Ma Chung memilih  beberapa mata kuliah atau program unggulan yang ada di SoBM yang tidak dipelajari di Ma Chung seperti Program Business Creation dan program unggulan lainnya.  Hadir dari Ma Chung University salah satunya Ibu Dr. Anna Trwijayanti, SE., M.Si.  sebagai Dekan Fakultas Ekonomi dan Bisnis.
Rombongan disambut langsung oleh Bapak Idris Gautama So, S.Kom., SE, MM, MBA, sebagai Dean School of Business Management, Bapak Stephen G. Kurnia, ST, MM, M.Comm  dan Bapak  Ali Rahman, S.Sos., MBuss  dari BINUS Institutional Development Center.  Diskusi dan tanya jawab berlangsung sangat menarik, hadir dalam diskusi antara lain Ibu R.A. Aryanti Wardaya Puspokusumo, B.Sc., MBM selaku Internationalization & Partnership Program Coordinator, Pak Rudy Aryanto, SE, MM dan Ibu Natalia., SE, MM
Untuk menindak lanjuti rencana kerjasama dimaksud masing-masing pihak akan mempelajari kurikulum masing-masing institusi untuk memilih mata kuliah dan programyang sesuai.
Harapannya, kerjasama yang dilakukan antara BINUS dan Ma Chung University  dapat  menjadi  inspirasi  bagi jurusan dan program lainnya untuk dapat meningkatkan dan menciptakan kegiatan-kegiatan kerjasama yang saling memberikan manfaat.