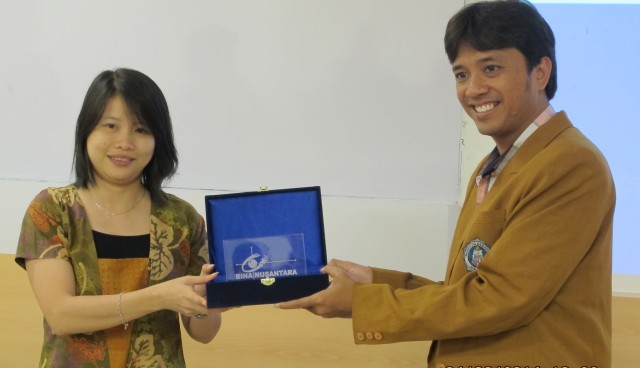 BINUS – Pada hari Rabu 4 Juni  2014, mahasiswa Universitas Kanjuruhan Malang   beserta dosen  pembimbingnya berkunjung ke Binus University untuk benchmarking ke jurusan School of Computer Science (SoCS).
Acara di buka oleh  perwakilan mahasiswa dari  Himpunan Mahasiswa Teknik Informatika (HIMTI), kemudian dilanjutkan penjelasan tentang SoCS oleh Bp. Franky Hadinata Marpaung, S.Kom, MM selaku Deputy Head of School – Computer Science – Student & Alumni dan dilanjutkan sambutan dari Dekan Fakultas Teknologi Informasi Universitas Kanjuruhan Malang Bapak. Yusriel Ardian, S.Kom., M.Kom.
Dalam Kesempatan ini, mahasiswa dan dosen   Universitas Kanjuruhan Malang disambut langsung dan mendapat berbagai penjelasan dari pejabat BINUS University, yaitu oleh ibu  Yen Lina Prasetio, S.Kom., MCompSc. sebagai Head of Program – Computer Science, Bapak Afan Galih Salman, ST, M.Si. selaku Head of Program – Mobile Application & Technology, dilanjutkan dengan diskusi dan tanya jawab serta bertukar cindra mata.
Rombongan dari Universitas Kanjuruhan Malang   berkesempatan Campus Tour ke Unit Pelayanan Mahasiswa, Laboratorium Komputer,  dan Unit Lainnya di Kampus Anggrek.